Teacher - Primary and Secondary Youth Engagement Teacher - Mornington Island State School
Mornington Island State School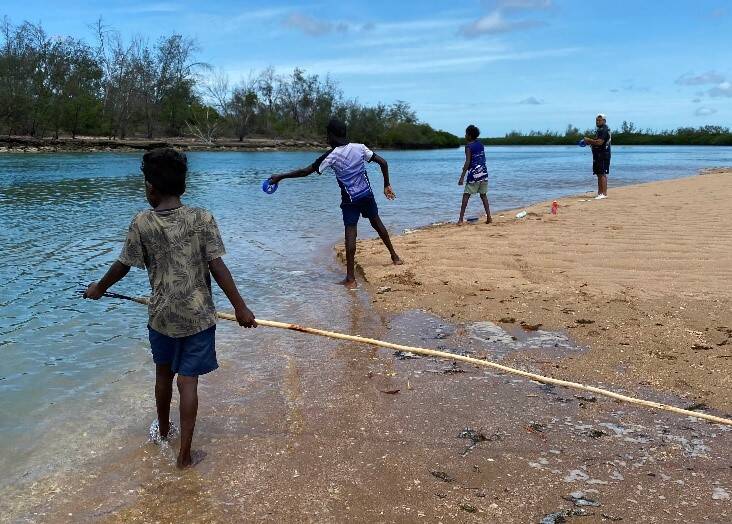 Mornington Island State School is currently seeking a Youth Engagement Teacher to join their team in Semester 2, 2021. This role is to support boys and young men who the Community Elders fear are at risk of disconnecting from their Culture and Community. Are you motivated to support disengaged young people and are looking for something (or somewhere) different? Apply Now!
Job details
Position status
Permanent,Temporary
Position type
Full-time
Occupational group
Education & Training
Classification
Teacher
Workplace Location
North West Qld
Job ad reference
QLD/NQR378348/22
Closing date
21-Oct-2021
Job duration
Commence as soon as possible
Contact person
Luke Bowering, Principal
Contact details
P: 0405 028 292 | E: lobow0@eq.edu.au
Access the National Relay Service
About the Role:
Are you motivated to support disengaged young people, but looking for something (or somewhere) different? An opportunity exists to work to live and work with the Lardil and Kaiadilt People of Mornington Island in the Gulf of Carpentaria. You will be engaging directly with a cohort of boys and young men who the Community Elders fear are at risk of disconnecting from their Culture and Community.
You will bring your culturally sensitive, trauma informed practice to the challenge of re-connecting these boys with learning and with a sense of worth and purpose. You will be able to think outside the box, leveraging school and Community resources to co-design learning that embeds social and emotional wellbeing with Traditional Cultural Practice on Country utilising cutting edge ICTs.
If you are interested in this unique challenge and opportunity and want to know more, or if you are ready to join our team of dynamic and dedicated young professionals, please contact the Principal, Luke Bowering. 

Teaching in Queensland:
The department is responsible for the delivery of quality education services to all Queensland students in state schools and recognises teachers and their commitment to teaching through a range of rewards and benefits. To find out more CLICK HERE.
HELP (HECS) Debt Support for Remote Teachers:
To be eligible for this initiative you must be employed in a teaching position at of the schools listed below. This initiative will remit all or part of your accumulated HELP debt after you have been engaged in a teaching position, including as an early childhood teacher, for four years in a very remote location in Australia.
Further information is also available on the Frequently Asked Questions page.
Applicants for this position must possess:
A relevant teaching qualification. CLICK HERE for further information on teaching qualifications.
Current full registration or current provisional registration with eligibility for full registration, as a teacher in Queensland. Pre-service/graduate teachers must have been granted provisional registration prior to commencing employment as a teacher. For more information regarding registration requirements, please CLICK HERE.
In addition to registration, teachers working in Education and Care Services (including State Delivered Kindergarten programs) require an exemption card issued by Blue Card Services. For more information on blue cards and exemption cards, please CLICK HERE.
How to apply:
Simply click the Green 'Apply online' button below, enter your personal details and as per the School's request, applicants are required to submit:
A current Curriculum Vitae
Contact details for 2 referees (One of whom is your current or most recent supervisor. If you have previously held a teaching role it is expected that your referees hold a supervisory/leadership role within the school)
Pre-service teachers are advised to include any completed practicum reports, mentor/referee statements, and unofficial academic transcript for current course of study.
**Applicants are encouraged to commence and submit their application as early as possible as the Department of Education reserves the right to reduce the application period and/or remove the job advertisement  early should a suitable applicant be found.**
Further information
We are committed to building inclusive cultures in the Queensland public sector that respect and promote human rights and diversity.
Applicants are to apply online. Applications may be used to fill other similar vacancies and will remain current for up to 12 months. Applications from recruitment agencies will not be accepted.
Documents
Before applying for this vacancy please ensure you read the documents below.